Advanced PowerPoint
for Consultants
Learn to use PowerPoint like an experienced top-tier consultant with our flagship training course.
Advanced PowerPoint for Consultants provides intermediate PowerPoint users with the tools, training, and resources they need to build high-quality slides quickly and efficiently.
The course draws heavily on best practices from the consulting industry to teach consultants and everyday PowerPoint users how to build professional, well-structured slides in a matter of minutes. With a focus on speed and efficiency, this course will show you how to utilize PowerPoint's hidden features to save hours of unnecessary work. You'll learn all the important keyboard shortcuts, and you'll see how these shortcuts get used in the real world. With concise videos, hands-on exercises, and downloadable resources, you'll quickly develop a skillset that will benefit you not only in your current role, but throughout your career. 
3 Hours of High Quality Video
5 Keyboard Shortcut Quizzes
30 Day Money-Back Guarantee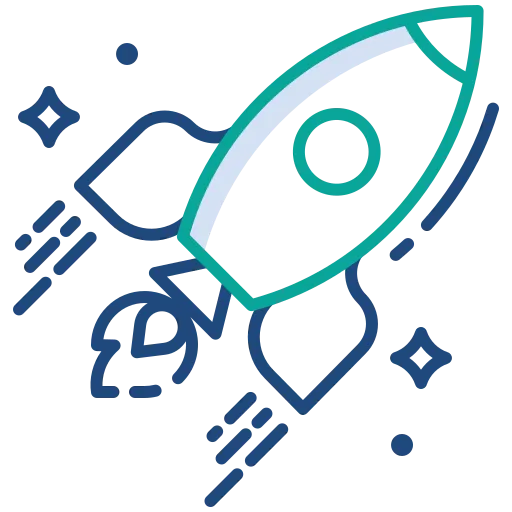 Speed and Efficiency
How to speed up unnecessary and time-consuming activites using PowerPoint's best shortcuts and commands
Advanced Slide Creation
How to build, edit, and finalize consulting-style slides like an experienced top-tier consultant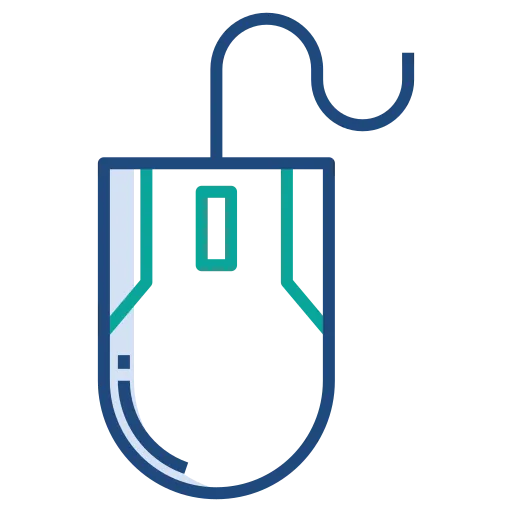 PowerPoint Hacks
How to utilize PowerPoint's advanced tools and lesser-known features to build high-quality presentations

"Fantastic - I have been looking for a course exactly like this to help me create professional grade PowerPoint presentations for work. Very clear and easy to follow and lots of "A-ha!" moments. Highly recommend."

"I am enjoying the course so far. The topics are well organized. The tips are useful. The exercises and guides are also very helpful. And the instructor does an excellent job explaining the material -- concise and clear."

"This is not the typical PowerPoint course, but a detailed instruction on how to bring your slide crunching skills to the next level. Taught in minute detail and with plenty opportunity to apply the learned skills immediately, this course is gold for everybody who needs to create high quality management slides on short notice."


"Great course.. I have been in consulting for a few years now.. but still managed to lean some new tricks in the trade..!! Thanks."

"Spot on tips & tricks; many gems that will make my ppt-life easier"

"informative and very useful for work"

"I've been designing with powerpoint for sometime now, learning all these extra shortcuts really saves time , this course is really great!"

"It's great. Super helpful information. Great instructor."

"Very good - the course has already helped me turbocharge my use of powerpoint in only a couple of hours work"


"Very useful even for a current consultant like me. The contents are exactly what are needed in strategy firms. Thanks!"

"So far I love it. I am not a beginner in PowerPoint, but these shortcuts and tips have completely changed the way I approach PP."

"Very helpful! i have learnt several new shortcuts and ways of improving my presentations to look more polished."

"I found this course very useful, all the concepts are explained clearly. Thank you !"


"This course was great and I learned a lot, thank you!"
Introduction
Welcome
Getting Started
Speed and Productivity
Introduction
PowerPoint Shortcuts
Five Power Shortcuts
Speed Example
Customizing Your Setup
Exercise 1
Exercise 2
Advanced Slide Construction
Introduction
Mastering Shapes Part I
Mastering Shapes Part II
Mastering Shapes Part III
Aligning Objects
Grouping Objects
Distributing Objects
Layering Objects
Utilizing Slide Master
Exercise 1
Exercise 2
Time-Saving Tools
Introduction
Working with Colors
Utilizing Icons
Making Pictures Work
Quick and Easy Charts
Formatting Tables
Other Formatting Tools
Exercise 1
Exercise 2
Managing the Deck
Introduction
Building the Ghost Deck
Reviewing and Updating
Finalizing and Sharing
Presenting the Deck
Exercise 1
Exercise 2
Conclusion
Wrapping Up
Course Summary
Paul Moss
Lead Instructor
(4.7)
This course is taught by Paul Moss, the primary instructor here at Analyst Academy. He is an experienced Management Consultant and Corporate Strategy professional, with multiple years of experience spanning Tech, Healthcare, Retail, and Telecom. In addition to his professional experience, Paul holds an MBA degree from Wharton Business School.  LinkedIn →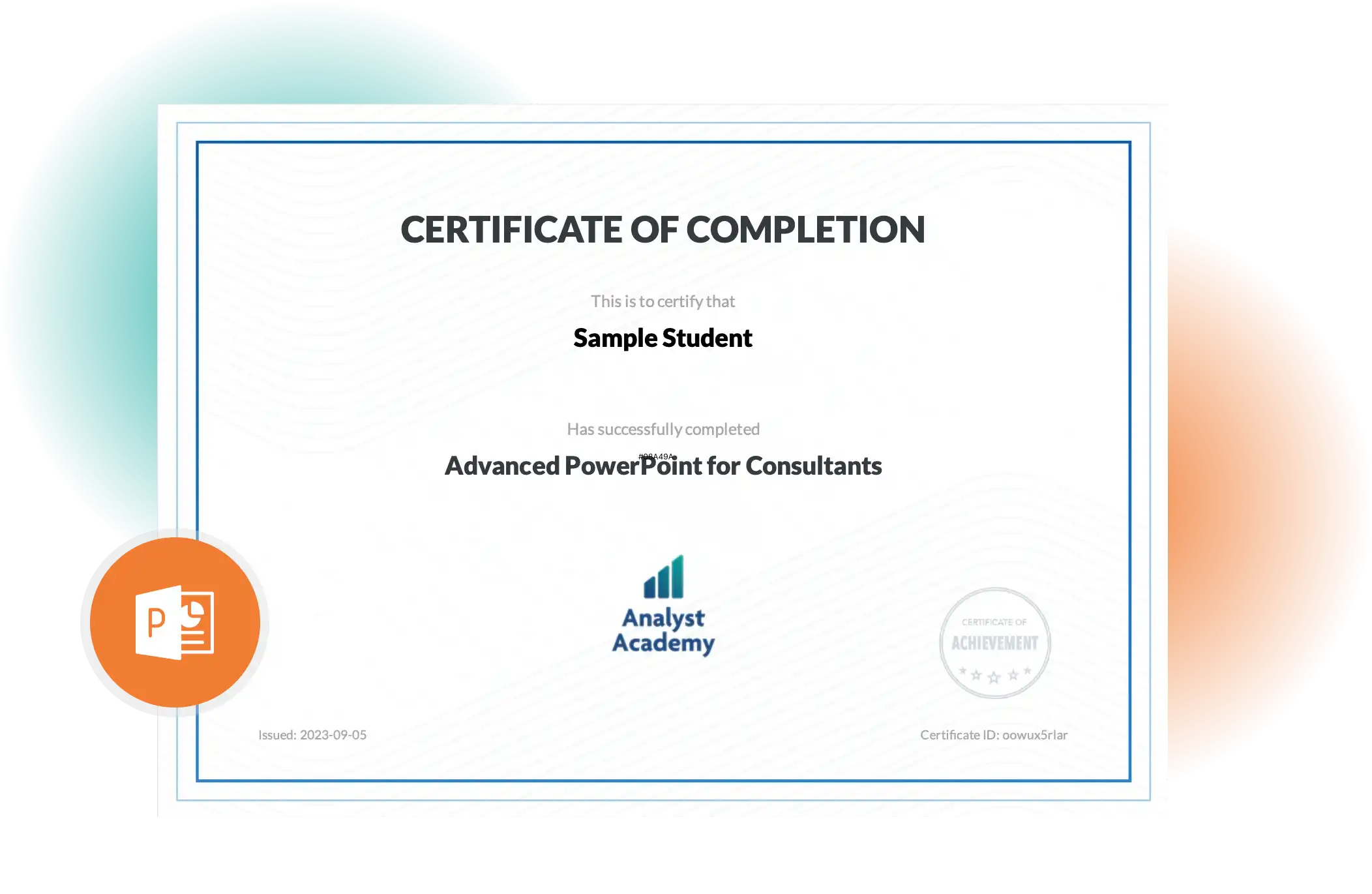 Successfully complete the Advanced PowerPoint for Consultants
course and receive a digital certificate to share on LinkedIn.
Your certification will also be noted in our records, so current and future
employers can verify you've successfully completed the program.
Single Course
Advanced PowerPoint for Consultants
All you need to get started
Access to all materials for 1 year
30-day money back guarantee
Essentials Bundle
PowerPoint + Presentations
Great for serious PowerPoint users
R

Access to all materials for 2 years

R

Email support

R

30-day money back guarantee

30-day money back guarantee

R

Ampler add-in (PPT only)

Receive a free 6-month subscription to Ampler for PowerPoint (PC only)

Receive a free 6-month subscription to Ampler Charts (PC only)

Gain instant access to 4+ hours of bonus videos including consulting slide breakdowns
Complete Bundle
All three available courses
Everything you need to be a pro
R

Access to all materials for 3 years

R

Priority email support

R

30-day money back guarantee

30-day money back guarantee

Gain instant access to 4+ hours of bonus videos including consulting slide breakdowns

R

Instructor slide feedback

Receive one-time feedback from the course instructor on up to 5 slides

R

Ampler add-ins (full suite)

Receive a free 6-month subscription to Ampler's full suite of Office add-ins (PC only)

Receive a free 6-month subscription to Ampler Charts (PC only)

R

All future course updates

30-day money back guarantee
Can I purchase multiple courses for my group or team?
Yes. We sell courses to teams and organizations of all sizes. You can learn more about our team offerings here.
I am already good at PowerPoint. Why do I need this course?
We assume most of you have already used PowerPoint extensively. That's why this course is specifically designed to take you from intermediate user to "consultant" level expert.
Consultants rely extensively on PowerPoint and are constantly under pressure to deliver high-quality slides very quickly. Success in this kind of environment requires an expert-level of efficiency and productivity, and that is what we aim to teach you in this course. 
Is this course just for consultants?
Our courses are designed with intermediate-level PowerPoint users in mind, whether they are in consulting, finance, strategy, or some other PowerPoint-heavy profession. 
What if I don't like the course?
If for any reason you are unsatisfied with the course, let us know and we'll provide you with a refund. We just ask that you notify us within 30 days of purchase, and that you refrain from watching more than 25% of the course content. 
Should I take the course if I am using PowerPoint for Mac?
The lessons are designed with PCs in mind, and most of our students tend to be PC users. However, we do have many Mac users that have enrolled and been satisfied.
In addition to the lessons and downloads, Mac users will also receive a special Mac version of our PowerPoint Shortcuts for Consultants PDF.
You may also consider taking our Advanced Presentations for Consultants course, which is not specific to PC users.
How do I know my payment is secure?
We accept payment via PayPal or Stripe. All payments are processed securely using 128-bit SSL encryption. Furthermore, we encrypt all the data passing between our site and your device using an HTTPS connection.
To learn more about the steps we take to ensure your information is secure please view our Privacy Policy.
Can I pay in a different currency?
The default currency for our courses is USD. However, we can accomodate a wide range of currencies.
If you would like to pay in a different currency, please reach out to us at [email protected].