Big name consulting firms like McKinsey, Bain, and BCG all do one thing really well: they create amazing presentations for their clients. But it's not just the formatting and design that makes these presentations so special. It's the stories they tell.
In this article you'll learn the PowerPoint storytelling techniques major consulting firms like McKinsey, Bain, and BCG use to build elite presentations. You'll see how these storytelling experts build presentations with clear takeaways, compelling insights, and an engaging narrative. I'll walk through each step of the storytelling process in detail, and show you some examples of what this looks like in the real world.
But first, if you're new to this blog make sure you check out our advanced PowerPoint and presentation design courses. Or, sign up for our free 5-day email course below and get instant access to our most popular download: the Top 50 PowerPoint for Consultants cheat sheet.
When building a presentation, regardless of who the audience is, you have one primary goal: to make it as easy as possible for the audience to understand what you're trying to tell them. And this can be difficult – business presentations tend to have a lot of data and information, and it can be hard for the audience to grasp the key insights right away. Especially if they're trying to also listen to the speaker and think about what they're gonna say in response.
So when building your deck, it's especially important to make sure it's structured in a way that makes it clear, insightful, and engaging. It's something top consulting firms do really well, thanks in part to two important concepts: the SCQA framework and the Pyramid Principle.
SCQA Framework
In simple terms, SCQA is just a framework for presentations that allows you to craft a story around the information you're trying to present. It stands for Situation, Complication, Question, and Answer.
Every presentation is an answer to some question, such as "should we acquire this company?" or "How did this marketing campaign perform?" or even "What did you find in your research?" – and the SCQA framework just allows you to provide context for that answer.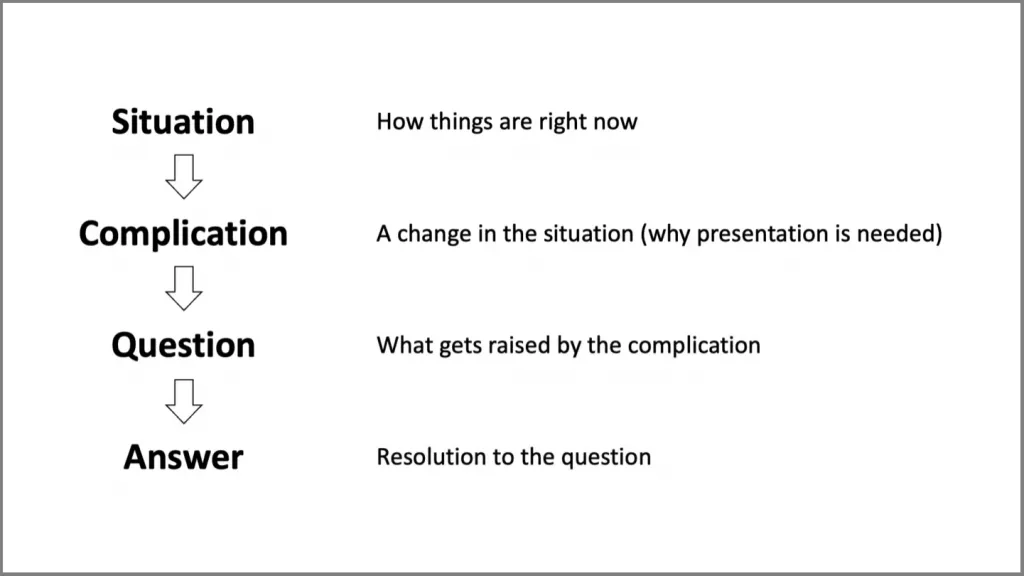 Practically speaking this means that your main deck is used to show your answer, and the situation, complication, and question are how you provide context for that answer.
Lets consider an example…
Disney Case Study
Let's say you're on a consulting case for Disney and the executives have asked you to make a recommendation for where they should build their next theme park.
The main part of your presentation will be the actual recommendation and all the supporting details. But then the situation, complication, and question will form your introduction slide.
The situation is how things are right now. The complication represents a change in that situation and is the reason why the presentation is needed. The question is what gets raised by the complication (and what needs to be solved). Then the answer is the resolution.
So here, the situation might be something like, "Disney is looking to grow revenue by opening a new park". The complication could be, "they need to decide where to open this park". Which then leads to the implicit question which is, "where should Disney open its next theme park?"
Then the main part of your deck answers this question.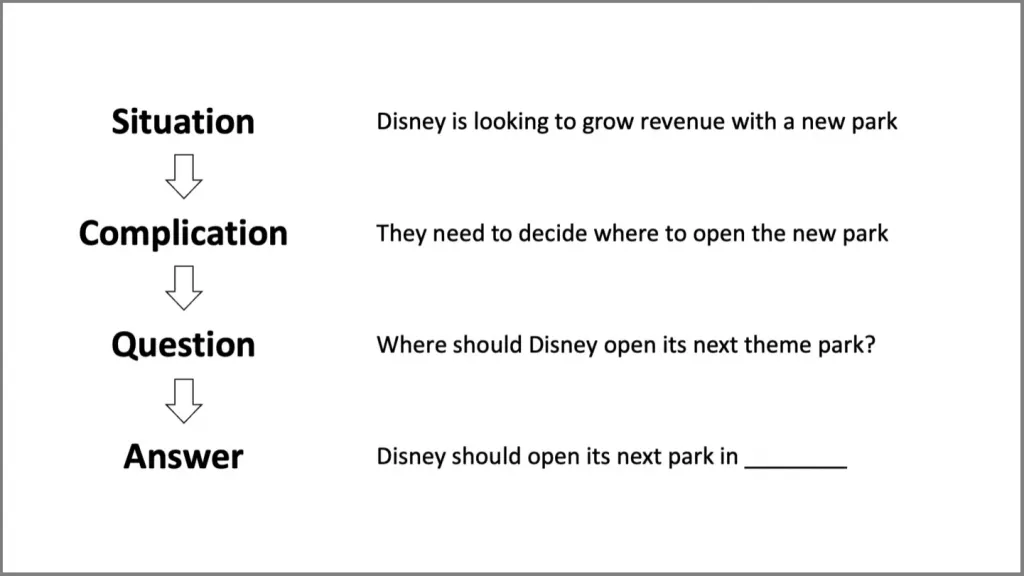 And notice how this brings the presentation to life. It puts the presentation in context, and it tells the audience why they should care. Instead of just dropping them in the middle of your data, you're leading them along and creating a narrative. Remember, your goal is to make it as easy as possible for the audience to understand what it is you're trying to tell them.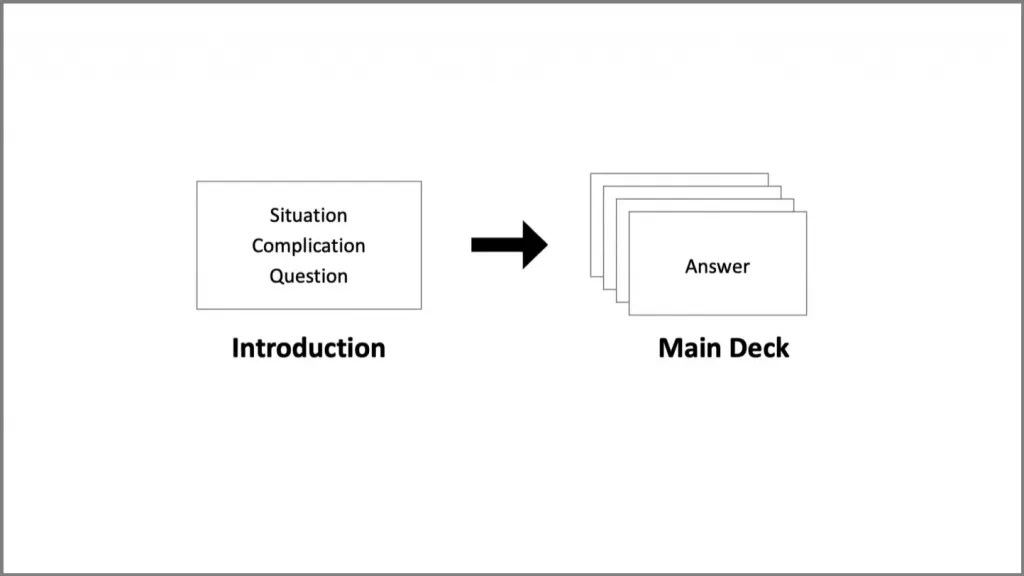 Now, an important rule here is you don't want your introduction to have anything new or controversial. It should all be something your audience already agrees with, so you can focus on the answer. All you're doing is establishing relevance, and making sure you and the audience are on the same page.
BCG Example
Here is a great SCQA example from BCG.
The presentation is for a non-profit organization that invests in open education resources (or OER) – which are basically education resources that are made available to everyone.
"The Open Education Resources ecosystem" BCG, June 2013
They've titled the introduction slide "context of the work", because ultimately that's what it is. They're just giving context before diving into the presentation.
The first line says, "Since the William and Flora Hewlett Foundation began investing in open education resources in 2002, the field has grown significantly: the past decade has seen an influx of OER and increased awareness and adoption".
And notice how this just clearly and plainly explains a steady-state situation. How things are right now. This is the situation.
Then the next line says, "However, more work remains to push the OER movement from the sidelines of mainstream education into the center of the classroom". This line essentially tells us that things are looking good for OER, but more work remains. This is the complication.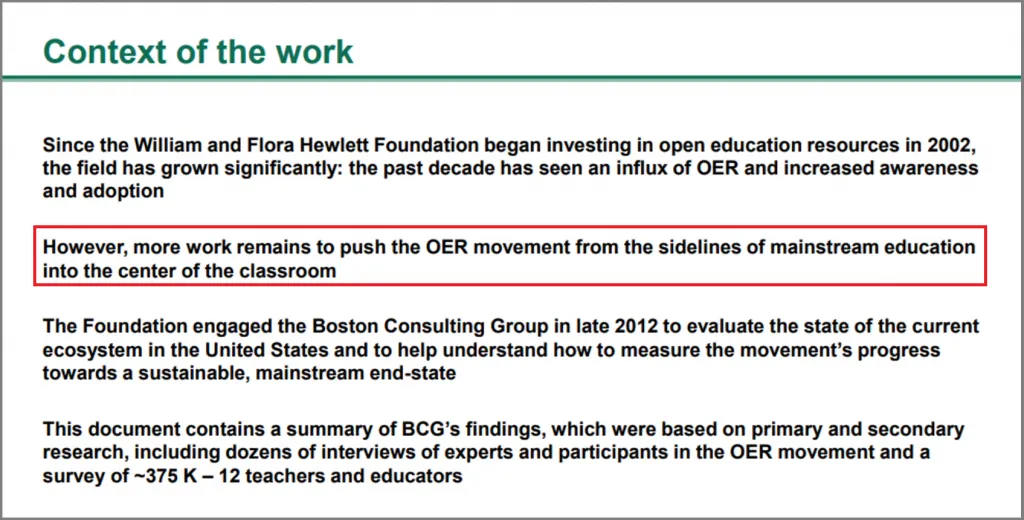 And already you can see how this is setting up the presentation. The situation leads to the complication, and the complication very naturally leads to the question, which is the next line:
"The Foundation engaged the Boston Consulting Group in late 2012 to evaluate the state of the current ecosystem in the United States and to help understand how to measure the movement's progress towards a sustainable, mainstream end-state".
Now although they don't state the question explicitly, you can see it in the text. The question is "What is the state of the current ecosystem in the US, and how can we measure the movement's progress?"
And now we have the right setup for the presentation, and we're ready to hear the answer. Everyone is on the same page, and the audience is ready to go.
It might seem like a small piece of the presentation, but all the major consulting firms use this PowerPoint storytelling technique to turn what otherwise might be a dry presentation into a persuasive story with a clear narrative.
Pyramid Principle
If you've watched our other videos, or taken some of our advanced courses, you'll know that we talk about the Pyramid Principle a lot – especially as it relates to slide structure. But here I'm going to focus on how it applies to storyboarding and the presentation as a whole.
Put simply, the Pyramid Principle is just a method of communicating information where you start with the main idea, and then provide the supporting details and data of that idea. Going back to our Disney example, the main idea would be on top, then the two supporting points would be below that.
If you recall, the question is, where should Disney build a new theme park?
Let's say that your answer is that Disney should build a new theme park in Rio de Janeiro, Brazil. Two supporting reasons for that answer might be that Rio is a major tourist destination, and that the Disney brand is strong in Brazil. And if you wanted, you could continue creating additional layers to your pyramid with more supporting details and data.
In a presentation, the way you would communicate this is from top to bottom. And the reason why that approach is so effective is because you provide the audience with context first, before giving them more granular detail. Plus it helps the audience know exactly what you're trying to tell them, and how you've reached each of your conclusions. Remember, your main goal is to make it as easily as possible for the audience.
If you were to turn each of these ideas into its own slide, you would rearrange them with the highest level ideas coming first, then the supporting details following each idea. Then throw your introduction slide up front, and voila! you've got yourself a story.
And this is the exact PowerPoint storytelling technique they use at every major consulting firm to build client presentations that are incredibly clear, compelling, and persuasive.
Final Thoughts
Unfortunately, PowerPoint storytelling doesn't always happen this smoothly. In practice, there are lots of factors that can influence the final version of deck. Not to mention other slides that I didn't mention like an executive summary slide, next steps slide, or the appendix. But generally speaking, this approach works really well.
In fact, did you notice it's the same approach I used for this article. I started by stating the situation: I said that when you build a presentation you want to make it as easy as possible for the audience. Then I introduced a complication: business presentations tend to have a lot of data and information, so making it clear can be difficult. The implicit question then became, how can you make data heavy presentations easy to understand.
Then I moved on to my answer, which was to provide a clear structure to your presentation, using two key concepts: the SCQA framework, and the Pyramid Principle. And I used this structure to then build out and explain my answer.
The end result is an article that's clear, easy to follow, and insightful (I hope!).
You can watch a video version of this article on YouTube.